DOOR2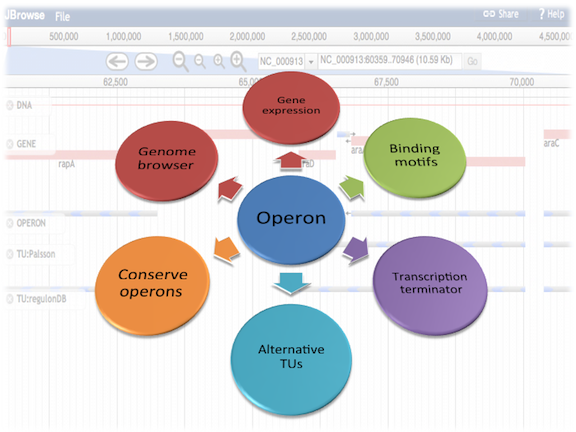 Complete and reliable operon database covering 2072 bacteria genomes and with overall accuracy of ~90% evaluated by Brouwer (2008) on Brief Bioinformatics.
Massive alternative TUs (transcription units) from experiments and predicted by RNA-seq.
One-stop operon-centered resources including alternative transcrioption units, transcription factor binding motif, transcription terminator, gene exression by microarray and RNA-seq and conserve operons accross multiple bacteria genomes.
Intuitive JBrowse-based genome browser supporting exploring all data in an intutive visualization manner.
A google-like keyword based engine for easier search than ever, like NC_000913, lactose, b0001, lacZ, coli, MG1655.


Search our database now
7/22/2013, Xizeng presented DOOR 2 poster on DOE BESC Retreat 2013.
2/6/2013, Xizeng and Chuan started to develop new web interface. Xin and Hanyuan are involved later.
12/6/2013, Chuan, Xin and Qin started operon prediction and TU prediction.
11/2012, Xizeng and Qin started to conceived the ideas of DOOR 2.0
The overall statistics of DOOR2
With operons*
With Transcription Units(TUs)
#species
2,071
#species
24
#chromosomes
2,205
#chromosomes
24
#plasmids
1,644
#plasmids
0
#operons
1,323,902
#TUs
253,300
MOPC
582.3
TPC
10,554
MOPP
24.0
TPP
0
#single-gene operons
2,578,949
-
-
SOPC
1134.5
-
-
SOPP
46.7
-
-
MOPC: multi-gene operons per chromosome
MOPP: multi-gene operons per plasmid
SOPC: single-gene operons per chromosome
SOPP: single-gene operons per plasmid
TPC: TUs per chromosome
TPP: TUs per plasmid
With cis-regulatory elements
#species
203
#chromosomes
224
#plasmids
13
#TFs
302
#TFBS
6,489
TFs: transcription factors
TFBSs: transcription factor binding sites
With terminator*
#species
2,071
#chromosomes
2,205
#plasmids
1,644
#terminators
3,456,718
* ther terminators included in DOOR2 are all intrinsic terminators
Conserved Operons
#COP
6,975,454
#COPPO
5.3
COP: conserved operon pairs
COPPO: conserved operon pairs per operon
Please cite the following papers if you use our database:
X. Mao*, Q. Ma*, C. Zhou, X. Chen, H. Zhang, J. Yang, F. Mao, W. Lai and Y Xu. DOOR 2.0: DOOR 2.0: presenting operons and their functions through dynamic and integrated views. Being reviewed by NAR Special Database Issue, 2013.
F. Mao, P. Dam, J. Chou, V. Olman, Y. Xu, DOOR: a Database of prOkaryotic OpeRons, Nucl. Acids Res. 37: D459-D463, 2009.
P. Dam, V Olman, K. Harris, Z. Su, Ying Xu, Operon prediction using both genome-specific and general genome information, Nucleic Acids Research, 35:288 - 298, 2007.